I decided to purchase cheap tablet and after some time of consideration and price comparison I decided to purchase a SuperPad i7 FlyTouch 3 tablet.
I will start with the technical information regarding this device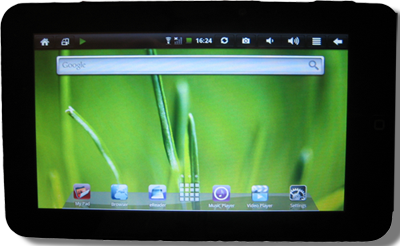 Technical information about this pad:
CPU: Infotmic iMAPx210 1GHz
OS: Google Android 2. 2
RAM: 512M DDR2 (my version has 256MB)
Storage: 2GB
Support TF card extend 16GB max
Display: 7 inch TFT LCD resistive touch panel 800×480
Camera: 2. 1 mega pixel
Battery: 3600mAh
Networking: Wifi 802. 11 b/g
Support 720P Video
3G: Extenal
Work time: 3-7 hours
Speakers: Yes
MIC: Yes
G-sensor: Yes
Interface: Headphone jack1, TF card slot1, Mini USB1, DC Slot1, USB1
Weight: 0. 346 kg
Package weight: 0. 701 kg
Size: 19. 411. 71. 2 cm
Package size: 26. 416. 06. 2 cm
Shopping:
This tablet was not available in my country so I needed to ship one from the China. I was looking for a good and honest seller and I thought I found one, with was www.esaleschina.com. I ordered tablet with 512 MB and the one that was send has only 256MB. After sending e-mail with question regarding how to solve this situation what I got was dead silence…. So bottom line here AVOID this "shop"!
Performance:
Tablet cost me around 60$ (plus shipping) so I didn't expected speed demon.
CPU suppose to run on 1GHz, but in reality (I don't know if this is in all Superpad i7 or just in my "version") it runs at 791 MHz (800MHz). It's IMAPX200 ARMv6 processor with GC600 Vivante GPU.
/proc/cpuinfo shows:
Processor: ARMv6-compatible processor rev 5 (v61)
BogoMIPS: 791.34
Features: swp half thumb fastmult vfp edsp java
CPU implementer: 0x41
CPU architecture: 6TEJ
CPU variant: 0x1
CPU part: 0xb36
CPU revision: 5
Hardware: IMAPX200
Revision: 0000
AnTuTU Benchmark results (ver. 2.8):
Total score: 1227
RAM: 107
CPU Integer: 234
CPU float-point: 197
2D Graphics: 331
3D Graphics: 278
Database IO: 80
(SD has only 430 MB so no SD benchmark)
This is definitely not the fastest CPU.
GPU has good 2D support, with is shown in benchmark, and indeed in 2D games, like i.e. Angry Birds, performance is acceptable. But due to low performance in any other area there are noticeable frame rate drop outs. In the end games like Angry Birds are playable (not always smooth but enough to make it enjoyable). Simple 3D games are also playable.
Application like web browsers works fine but if page contains rich CSS or simply a lot of text with images then there is noticeable performance drop. When page if fully loaded and all js and CSS is evaluated by browser then page scrolls fine.
WiFi:
This tablet supports only WiFi Internet connection, so if You are limited only to wired network, then You are in trouble. There is no RJ45/cable support.
WiFi card is weak! I have my router on first floor and I can't connect to it with this tablet. Extending WiFi using another router fixed my problem, but even then I can only connect to router from around 10 meters and if there is no obstacle between tablet and router.
WiFi in this device is a joke!
Battery:
Battery holds around 3-6 hours. In average 4 hours.
Charging takes about 3-5 hous from 0 to 100%.
Screen:
When tablet is moved around 40 degree, in any direction, then image starts to shift/inverse colours and past that point image degradation/visibility is unacceptable.
Resistive screen works fine, sometimes I need to press a little harder but it's not so bad.
Usability:
To extend storage space I used AData SDHC card with 16 GB. There is no problem with card itself and everything works fine. The problem that I encounter with SD card is with taking it out. Because of the narrow space in SD area card has tendency to catch on the edge of the casing and get stuck.
Pad supports Mass Storage mode with allows You to connect it to the PC. All SDCards connected to Pad are visible as separate drives.
Market is available but due to error's device can't connect to it (application simply crash). There is application installer shipped with it and that works fine but this force user to copy/install applications by hand.
One of really annoying "features" is AC connection indicator. There is a led, in upper right corner, that indicate that the device is connected to AC supply. When You hold tablet then this light is directed at Yours eyes. In night this is especially distracting and annoying.
Movies plays smooth. No problem even with Full/HD resolutions.
In my case, after downloading applications from the market, tablet performance drop out. There was no background processes so I suspect that new grids with icons in home screen cause this.
Conclusion:
It's hard for me to recommend this device to anyone. Due to weak WiFi performance You will definitely have problem with Internet connection. In my case low amount of RAM (256MB) causes drop in performance.
On other hand If You want device that is really cheap (and You don't care about performance) then this device is for You.